Complete Story

Frosty Brown-2016
Bethel High School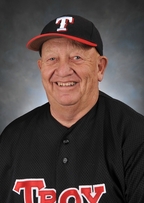 Coach Irvin "Frosty" Brown is a 1965 graduate of Troy High School, where he was a 4 year letterman in baseball. He earned a baseball scholarship from Western Michigan University. He received his BS in education from there in 1969. Frosty pitched for the nationally ranked Broncos and competed in the NCAA Regionals. He went on to earn both his MS ('70) and Educational Specialist degree ('71) in Sports Administration from Eastern Kentucky University. He began his baseball coaching career as graduate assistant at EKU in 1970 where he was both pitching and third base coach, under former head coach, Charles "Turkey" Hughes.
Brown moved to Bethel H.S. in 1972 and spent the next 28 years building the Bees baseball program. He actually built the school's baseball field which was later named in his honor in 1996. He served as Bethel High School Athletic Director for 16 years and was selected the Southwest District "Athletic Administrator of the Year", by the OIAAA in 1993. During his tenure, the Bees were 531-264 overall, winning 16 Cross County Conference titles, 22 sectional championships, seven district crowns and two regional titles. His 1984 team advanced to the State "Final 4" while in 1998, they were state runners-up.
In 2000, Frosty shifted to his alma mater and led the Troy Trojans to three, 20-win seasons and three sectional titles during his five years at the helm. Frosty's combined record as a high school head baseball coach, is 618-306 over 33 years. He was the Dayton Area, Division IV "Coach of the Year" five timess, and earned OHSBCA Division IV "Coach of the Year" laurels in 1998. The following year, ('99), Frosty was named National Amateur Baseball Federation. "Man of the Year" and in 2000, was installed in the inaugural class of the Bethel High School Athletics Hall of Fame. The American Amateur Baseball Congress (AABC) chose Frosty as its "Midwest Regional Coach of the Year" in 2003. He was inducted into the Miami Valley Baseball Coaches Association Hall of Fame in 2006.. The National Amateur Baseball Federation honored him for his "many years developing and promoting high school and summer baseball" by giving him their highest award in 2008 "the NABF Award of Merit".
Brown just completed his 43rd season as head coach of Troy American Legion Baseball where his record stands at 1,658-763. He's competed in 54 State Tournaments, 17 national regionals and 12 World Series. Hefounded "Frosty Brown Fall Batting Leagues" in 1993, which annually involves 100's of boys and girls.
Each spring, he broadcasts high school baseball games for WPTW radio and in the summer, supervises the Troy Baseball School for the Troy Recreation Department. Over 450 of Coach Brown's graduates have gone on to play college baseball, with 44 signing pro contracts. Two, (Heath Murray and Cory Vance) became Major Leaguers. Seven former players are presently coaching in college and 12 others are high school coaches, a legacy he is very proud of.
He and his wife, the former Connie Conrad celebrated their 50th wedding anniversary, last, June. Connie is also very active in baseball. She serves on the NABF Board of Directors, and is World Series "tournament director" for a variety of its age groups. They are the proud parents of three children; sonDeron and daughters Heather (Yunker) and Elizabeth (Cool). Deron is a science teacher at Tippecanoe H.S. and also serves as "assigner for the West Central Umpires Association. He's also the"commissioner" of the Great Lakes College League and "assigner" for the Frontier Independent Professional League. Daughter, Heather is a first-grade teacher in the Tippecanoe School District. Elizabeth, their youngest daughter, is a computer marketing specialist with the Berry Company. The Brown's have six grandsons" Chase (26) and Cooper Brown (20), Ben (18) and Ian Yunker (15) andDrew (12) and Logan (6) Cool. They also have a 4 year, great-granddaughter; Sophia Brown.