Howard Converse - 1981
Cincinnati Princeton H.S.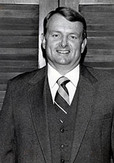 Howard Converse earned his Bachelor degree from the University of Cincinnati in 1961 and Masters degree in 1963. While at UC, Howard pitched for Ed Jucker and Glenn Sample starting 1958 through 1961. He was the captain on the 1960 football team and was a three year letter winner. Coach Conversebegan teaching and coaching at Princeton HS in 1961 and coached diving, swimming, gymnastics, football and baseball. During his tenure as Defensive Coordinator the football "Vikes" compiled a 123-31-9 record with 13 championships. As Head Baseball Coach, his teams had an overall win/loss record of 338-145 in 14 years and averaged 24+ victories per season before a physical disability shortened his coaching career. His baseball teams won a combined 22 league, city, sectional, district, regional titles and were State Finalists in 1974. Coach Converse had over 50 athletes play at the collegiate level and 13 of thoser were drafted by Major League Clubs. Howard received Conference Coach of the Year five times, received the honor of coaching in the Enquirer East/West All Star Clasic and the North/South All Star Series. Coach Converse was inducted into the District High School Coach of the Year District 4 by The American Aossociation of College Baseball Coaches in 1981, selected Ohio H.S. Coach of the Year-Green & White Club Ohio University 1972, inducted into Princeton H.S. Athletic Hall of Fame 2009. Howard and Carol were married June 10, 1961 and have two married children. Bryan (Gina) and Beth (Jeff) Jenkins and enjoy 10 grandchildren who all live in the Cincinnati area.