Bob Wren - 1980
Ohio University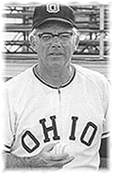 The late Bob Wren coached at Ohio University from 1949 until 1972. During his 24 seasons he led the Bobcats to eleven Mid-American Conference titles and eleven trips to the NCAA play-offs.

In 1970, Wren guided an Ohio team with 3 All-Americans (Mike Schmidt,Ed Robbins and Mike Hannah) to the programs only berth in the College World Series.

While recording the most wins in Ohio University coaching history (464),Wren never had a losing season and his .742 winning percentage ranks among the all time best in NCAA history.Bob also played six years of professional baseball in the St. Louis Browns organization. Wren is a member of the OU Hall of Fame as a player and a coach, the NCAA College Baseball Coaches Hall of Fame and the Ohio High School Baseball Coaches Association Hall of Fame.

In all, 63 of his players signed professional contracts and 12 went on to play major league baseball.After an extended illness, Coach Wren passed away on June 11,2002. On April 26, 1997, the Ohio University baseball field was named after Coach Wren. In 1997, Bob and his wife, Lois had been married for 53 years.